The below is a collection of formal traditions meeting modern day realities. Traditional options are based on traditional formal rules from Emily Post. Yet, the reality is not all weddings are formal nor traditional! So, we've compiled common tips from formal to what's commonly accepted in the 21st century.



The extremely important thing to remember is this is your wedding! Do not take tradition, formality, or other expectations to heart. Simply use them as a guide to creating a day that's unique to you!
Titles:
​​​​​​​
Dr. is a grey area, but spell it out whenever possible. For other titles such as 
Mr., Mrs., Mx., etc. you may abbreviate.
Spell it out: State and province names; Street, road, boulevard, and so on.
PO Box: Traditionally, it should be "Post Office Box," but the US post office prefers "PO Box". 
Numbers less than 20 should be spelled out. Again, this is traditional and is sometimes ignored for addressing or design purposes.
Traditionally, hosts (AKA who's footing the bill) were the parents of the bride. Today, some couples include all sets of parents including step parents regardless who is paying as a way to honor their parents or family. Regardless of who the host is, always use the full name including middle names and titles.
Don't forget the most important part: requesting the guests' attendance! Classic examples are below, but be as creative as you want to describe your day!
"The pleasure of your company" is traditional wording, but there are many options available to make your invitation fitting to your wedding style! 
"Request the honour* of your presence" is typically reserved for ceremonies taking place at a house of worship.
*"Honour" vs. "Honor": There is some debate, but per Emily Post, "honour" is for referencing a house of worship. In the US, some opt to skip the "u" even for a ceremony in a place of worship.
Traditionally, if a bride shares her parents' last name, only her first and middle name are listed. The groom's name is spelled out and includes a title: e.g. Mr. Michael Louis Potts.
In modern day society, we rarely list "Mr." with the groom's name. Instead, we often include the full name of all celebrates.
"To" vs. "And" between the names: Some religions use "and", while traditional we use "to". Today, most celebrates choose "and" to denote becoming one.
If Roman Catholic mass is part of the ceremony, you may include "and your participation in the offering of a Nuptial Mass" beneath the groom's name.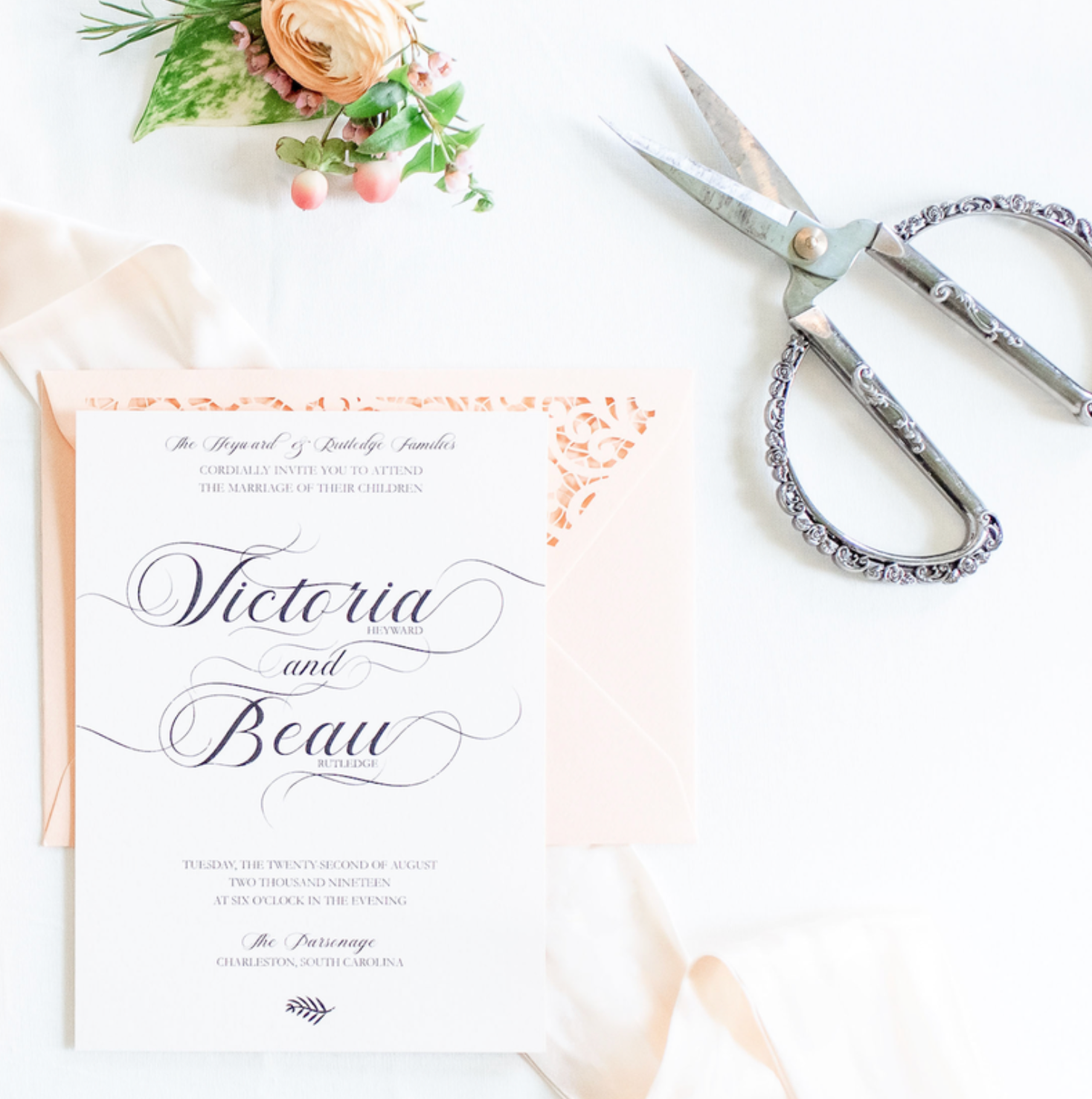 •  

Spell o

ut the date and year. Numbers may be used for casual invitations.
•  Capitalize the day of the week and month.
•  According to Emily Post, you do not capitalize the year. Yet, some stationers always capitalize the year. So, choose what's best for your invitation style and design preferences. 
•  "Two thousand and nineteen" or "two thousand nineteen"? There is no "and".
•  Use "half after", not "half past" or "three-thirty".
•  "a.m." and "p.m." is optional for casual invitations. 
•  Traditionally, "in the afternoon" and "in the evening" aren't necessary. Yet, this is commonly seen in today's invitations.
•  For venues, the street address is not necessary on the invitation. It may be included on the insert card. If the street address is listed, the zip or postal code can be omitted as it is for postal use.
•  Spell out all abbreviations.
•  
Abbreviation of the French "Répondez, s'il vous plaît," which translates as "please respond."
•  
What's correct? R.S.V.P., R.s.v.p., r.s.v.p., "The favour of a reply is requested" are all traditionally acceptable options. Today in the US, "favour" and "favor" are acceptable.
•  
Don't forget your RSVP deadline. It's usually 2-4 weeks prior to the wedding.
Snail Mail: Always include a pre addressed, pre stamped RSVP envelope for guests to return the RSVP card. RSVP cards make a great keepsake and adds excitement to checking the mail!
Online: A great and easy way to save money on your invitations and direct your guests to

all

of the wedding details from accommodations to welcome dinners or farewell brunches. 
pre + post wedding events:
Is there a welcome cocktail hour or farewell brunch? Don't forget to include dates, times, locations, and other details for any of these. 
ceremony + reception:
Keep guests informed. Will the ceremony and reception be at the same place? Will there be a dinner? 
attire:
Should they bring their dancing shoes or skip the stilettos for sandy toed sandals? No guest wants to show up looking out of place or freezing cold.
accommodations: 
Be sure to provide the hotel name, website, phone number, and any block codes or other special notes for reserving lodging. If the hotel is on the expensive side, a secondary cheaper options is a nice gesture. 
transportation:
Suggest if guests should consider a rental car or if taxi/Uber/Lyft is an option. Maybe the airport is close to the hotel, but a drive to the ceremony location, or you're providing a shuttle from the hotel to the ceremony– keep your guests in the know. 
gifts:
Notes regarding gifts or registries should not be included on the invitation. They may be included on the wedding website or an insert card. 
single card invitations:
In the event you must do a single card invitation, you may include a link to your website on the invitation. Ideally, we recommend including at least one other small card with the wedding website and RSVP deadline. 
Having a child-free or wedding-party-children-only wedding doesn't have to be daunting. First, address your invitations clearly with each guest name on the envelope and a child-free note on your website. If you must put a note to specifically exclude children, you may include a note on an insert card, but should not be on the invitation.

Wording Ideas
•  
"To give all our guests the opportunity to celebrate without having to worry about little eyes and ears, we politely request no children." 
•  
"We hope you will understand our decision to make the wedding children-free, and take the opportunity to let your hair down and celebrate in style!"
•  
"We are very sorry, but due to restrictions at our venue/safety concerns/nature of our venue, we cannot accommodate children."
•  
"Due to space constraints/nature of our venue/safety concerns, we are only able to invite the children of immediate family to our wedding.
READY TO APPLY THOSE TIPS OR FEELING OVERWHELMED?
If you're feeling a bit overwhelmed or maybe you want to focus on something else with your wedding day, contact us for pricing on our full service assembled and mailed invitations. If you're seeing all of these tips and thinking, I've got this!? Then, shop our templates!